I've been alive for approximately 35 years as I write this, but it feels like much longer.
I wish to preface the following with a statement: I don't desire pity. I don't desire admiration.
What I do desire is, quite simply, collective compassion for humanity.
Have you ever considered what the future would be like? What could come about given enough time, money, and energy?
I used to frequently dream of a world like Star Trek; Where wealth is meaningless, technology is incredible, and health problems are minimal.
A world that shines on, like diamonds in the sky.


I've got a number of health issues, and have since I was a child. The most prominent right now is my arthritis; it has gotten bad enough that I walk with the cane illustrated in my portrait. I actually had to take frequent breaks when illustrating the artwork for this site; rather than do it all in one night, I did it in parts.
I've also finally started working towards getting better again.
The decision to delay pursuit of healthcare wasn't out of stubborn pride, or a fear of doctors - although I do have a less than healthy fear of needles - but money.
Exceedingly so, in many cases. Every emergency visit, every specialist's appointment I've had in the past few years has cost me significant amounts of money.
Still, I am tired of hurting. I'm tired of being unable to appreciate the most basic activities in life. So, I am pursing my options.
First, general practitioners. I've got a great GP as a primary doctor now; he's spectacular, and understands me. We've tried a number of medications, but with little success. So, he gave me an option: A pain management referral, or a rheumatologist.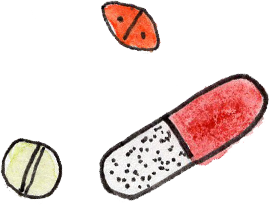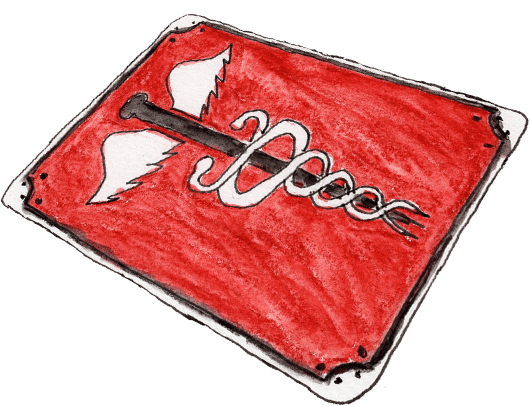 I could go with rheumatology, and deal with injections, steroids, tests, and a lot of trial & error that I honestly don't want to deal with.
Or, I could go with pain management. I can at least find a way to function when my pain is at it's worst. Plus, some of my other artist friends can be jealous if I got the coveted medical card.. I've never smoked pot before, but I'd do anything to feel better.. besides opiates.
This website is, first and foremost, my personal exposition. Every 6-9 months I tell a new story with it, while I share my other, more traditional creative projects. Take a look around and enjoy. Don't forget to read part 1 of my story: The cost of treatment in the US.